Day Camp
For Campers currently in K-4th Grade
Day Camp is 9 weeks long broken into 1 and 2 week sessions. Camp day is 9:15 – 3:45.
Tom Sawyer Day Camp is famous for its horse and swimming instruction and the good old-fashioned games, nature activities, and adventures awaiting the children every day.
The campers are grouped by grade into an all–boys or all–girls group of 12-13 led by 2 Counselors. Group allegiance runs high, and group rivalry is strong but friendly. With guidance from their counselors, group members select their activities. One group may favor group games and activities, another may like playing in their fort and trying to find the flags of other groups, and a third group may prefer to explore the "wild uncharted wilderness areas" just steps away from civilization. Adventures, real and imagined, seem to arise spontaneously, one after another, with the aid of our highly creative staff.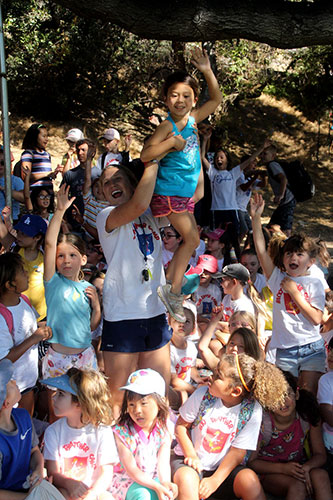 Activities include Horseback riding, Swimming, Archery, Axe Throwing, Activities/Wilderness Living, Unstructured Play, and so much more!
Not every activity is done every day.
Badges are earned at Horses.
Campers are swim tested on the first day and evaluated regularly thereafter.
Day Campers swim in water up to 5 ft deep (depending on wrist band swim level) with a 3:1 camper to counselor supervision ratio.
All pool staff are certified by the American Red Cross as Lifeguards, including First Aid, CPR and AED certifications and conduct regular drills throughout the summer.
Bring Lunch, Snacks, (lunch not provided).