Pre Camp
Ages 3 to 5 (Currently in TK or younger)
NOTE: Campers must be potty trained and 3 years old by June 1 to attend camp.
Pre Camp is 9 weeks long broken into 1 and 2 week sessions. Camp day is 9:00 – 3:15.
A truly unique program, Pre Camp was founded in 1966 with the commitment to offer the Tom Sawyer experience to pre-school age children. This is an especially important age for children to learn the joys of sharing outdoor adventures with friends without the restrictions of fences, noise levels, and clean clothes. A Tom Sawyer Pre Camper experiences the fun of exploring make believe territories with their group and builds their confidence by learning to ride our horses and developing swimming skills. Campers are able to develop an open and confident mind, a healthy and well-coordinated body, the ability to cooperate with their peers, and an enthusiastic spirit.
Each child participates in a coed group of 12-13 children and is led by a well trained group of 3 staff. Each group receives age and skill appropriate swimming and horseback riding instruction. Campers arrive at camp at 9:00am and leave at 3:15pm, ready for a long nap.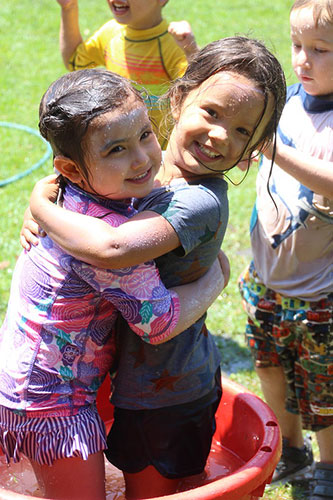 Activities include Horseback riding, Swimming, Archery, Activities/Wilderness Living, Unstructured Play, and so much more!
Not every activity is done every day.
Badges earned at Pool and Horses.
PC swim area is shallowest part of Pool (3ft), with a 3:1 camper to counselor supervision ratio.
Campers are swim tested on the first day and evaluated regularly thereafter.
All pool staff are certified by the American Red Cross as Lifeguards, including First Aid, CPR and AED certifications and conduct regular drills throughout the summer.
Must be 3 years old and potty trained by June 1st.
Bring Lunch, Snacks, (lunch not provided).